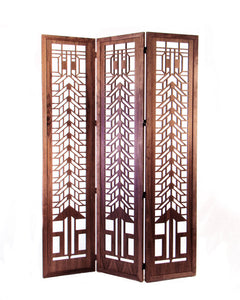 An elegant statement for home or office, our floor screen doubles as a room divider or decorative display.  Our screen is an adaptation from the Frank Lloyd Wright designed Darwin D Martin House in Buffalo, NY.  This innovative pattern was adapted from a casement art glass window.
Three panels of 17" x 74" x .5" in Walnut veneer with 3/4" solid Walnut molding, all with a clear finish.  Connected with high quality patina brass hinges.
Made in the USA.  A portion of these sales supports the FLW Foundation for preservation and education.