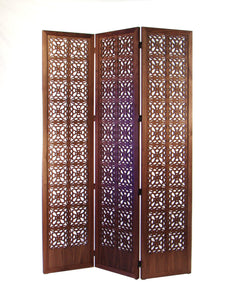 An elegant addition to any room, our detailed laser cut floor screen doubles as room divider or decorative display.  Our screen is an adaptation from the Frank Lloyd Wright designed pattern for the American Luxfer Prism Company.  Designed in 1897 and produced in glass, this pattern is a stunning example of Wright's work.
Three panels of 17" x 74" x .5" in Walnut veneer with 3/4" solid Walnut molding, all with a clear finish.  Connected with high quality patina brass hinges.
Made in the USA.  A portion of these sales supports the FLW Foundation for preservation and education.